by Bianca García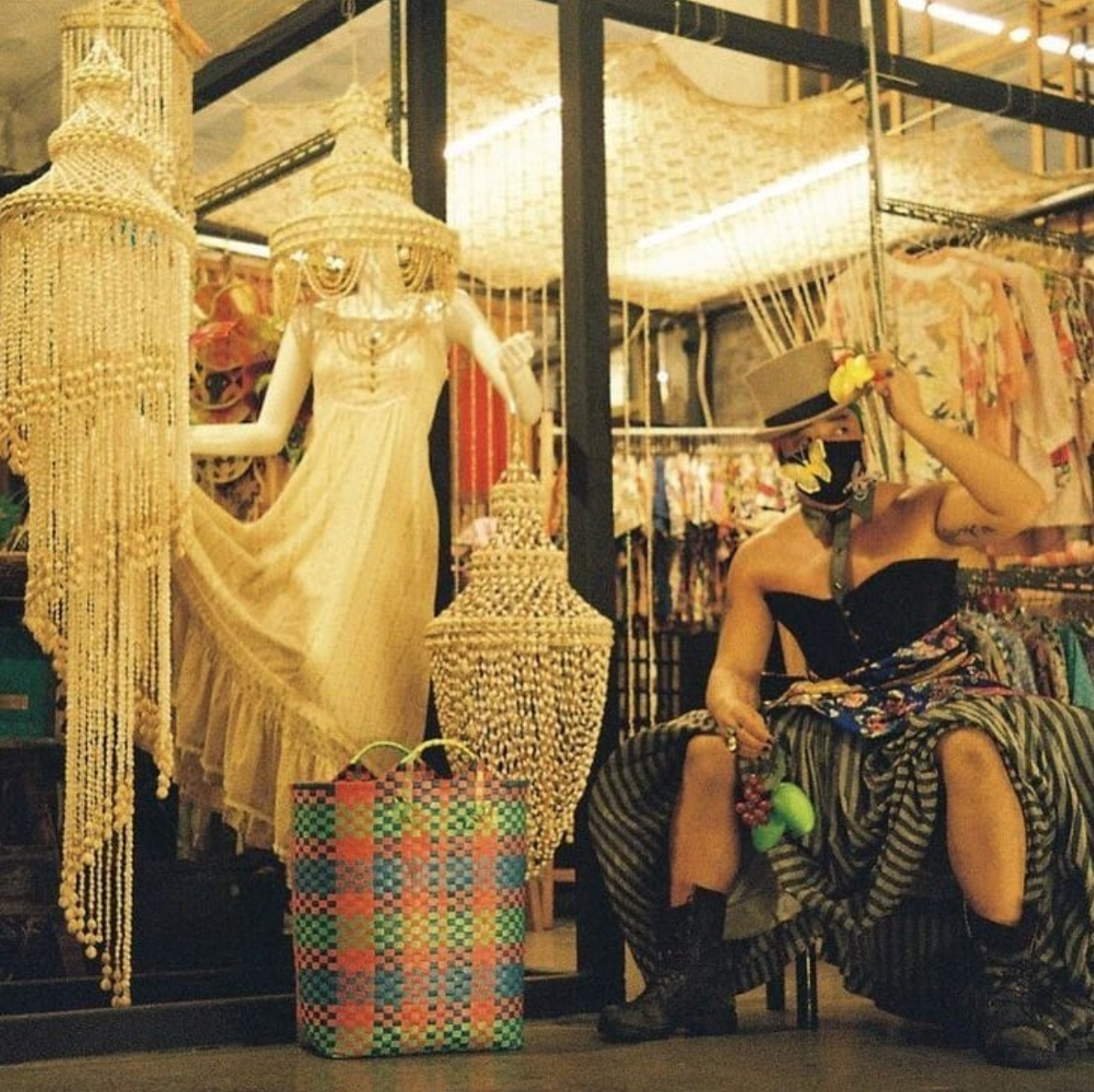 Figure 1. Jodinand Aguillon sits by the front display of his shop Glorious Dias. Instagram. Photo taken by Jean Chloe Yambao. January 8, 2022.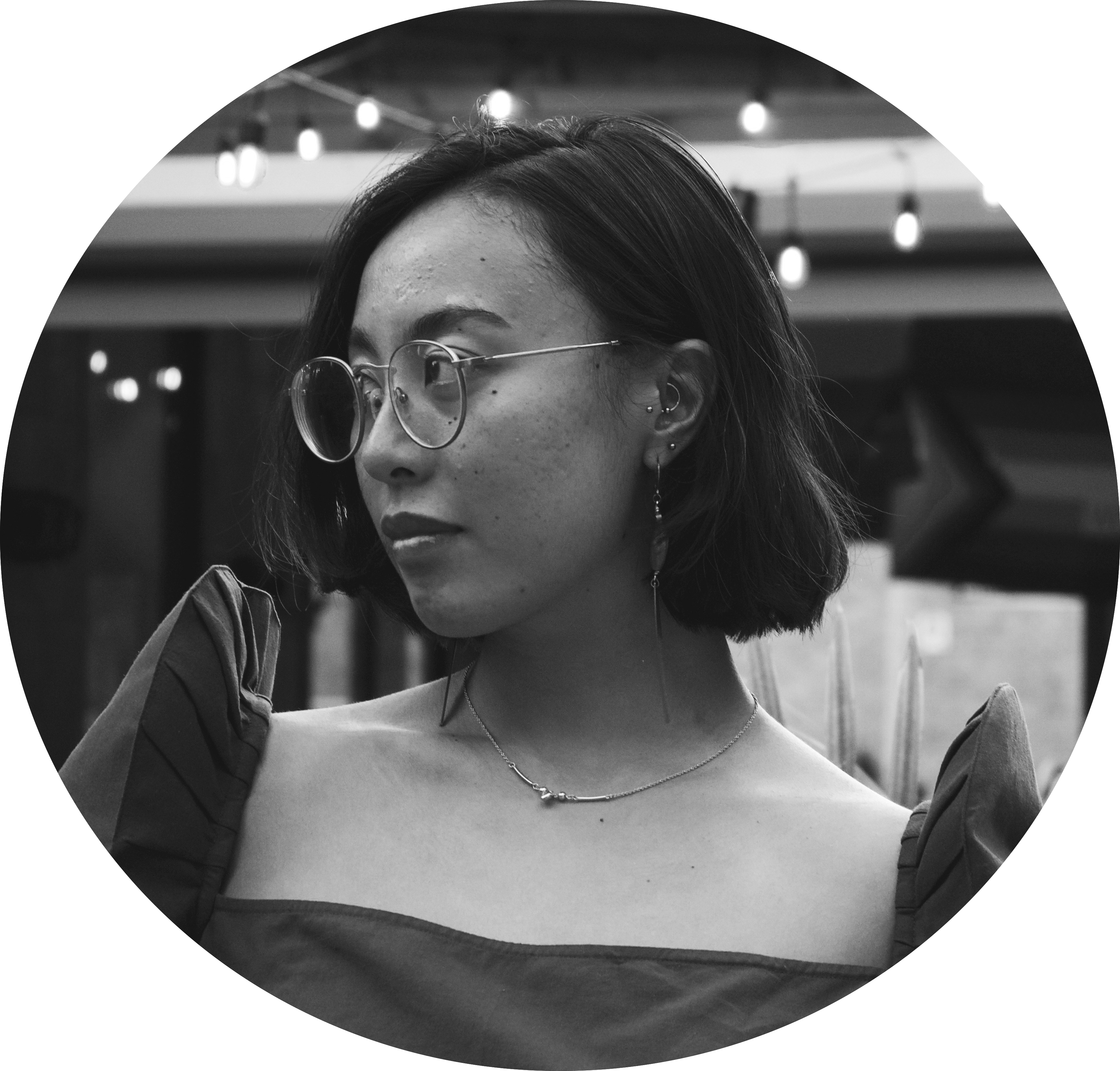 Bianca Garcia is a creative researcher and writer studying Filipino fashion, from the colonial history and political potency of Philippine national clothing to the abundant weaving traditions preserved by Indigenous Peoples throughout the archipelago. She has collaborated with other queer artists of colour through vintage fashion and community event organizing. As an emerging costume designer, she believes fashion can be a creative means of political resistance and world building. Bianca holds a MA in Fashion from Toronto Metropolitan University.
In the first United Building on Escolta Street in Binondo, Manila, there is a vintage shop called Glorious Dias run by Jodinand Aguillon (Jodee). This interview with Jodee is about Glorious Dias's community-centered work that disobeys normative modes of production imposed by the "official" Western-centric, capitalist fashion system. Instead of conforming to a rigid procedure of linear economic expansion, this vintage shop operates with a consciousness of its borderlands existence as a profit-making operation that fervently embraces its community role in Manila's artistic ecosystem. Glorious Dias's process of reworking garments centers reciprocal relationships between designer and seamstresses; respects and honors the histories of Indigenous Peoples in the Philippines; and infuses its designs with reflections on decolonization and classism.

Bianca's History of Vintage and Activism

This interview with Jodee is close to my heart because of our similar experiences as vintage-loving diasporic queer Filipino creatives. When I lived in Athens, Georgia, I worked at the vintage shop Atomic as a stylist, model, cashier, and social media director. The cluster of experiences and connections I took part in was deeply formative to my sense of self and understanding of community. Not only did I build fashion knowledge, skills, and experience; I also gained a role model and friend in Atomic's owner Stephanie Williamson, the first Asian-American woman I met who ran her own vintage business. Speaking about our experiences as Asian women living in the South while assembling outfits together was an extremely rare, healing, and mobilizing experience. Atomic provided a space where many queer people of color — myself included — felt safe and encouraged to nurture their creative expressions in the playground of vintage fashion. With the support of Atomic and Caledonia (the performance venue that shared a wall with Atomic and was co-owned by Stephanie and her husband Bryant), I co-organized a Take Back the Night protest and drag show fundraiser for local organizations that facilitate survivor healing from sexual violence. During the 2020 pandemic, Stephanie and Bryant hosted Athens's community fridge, solidifying the role of local vintage and music in mutual aid. It was at Atomic where I viscerally experienced fashion and activism as intertwining threads.

During this time, I also began the intensely emotional process of purifying myself of Filipino-American colonial mentality. Like many Fil-Am college students, I immersed myself in my university's Filipino student organization, learning folk dances like Tinikling and Itik-itik and co-producing Filipino fashion shows while feeling the weight of my ancestral country's history of colonialism and dictatorship. This overlapping space of fashion, feminism, and Filipino history is what led me to Jodee's work.



Jodee, Disobedient Balikbayan: The Philippines to Canada to the Philippines Again

As a Filipino-Canadian immigrant living in the Philippines and actively contributing to Manila's artistic sphere for the past five years, Jodee inhabits a hybrid existence that floats in both diaspora and homeland; it is a borderlands existence that disobeys the Martial Law-era state-constructed balikbayan identity. Originating from a 1970s "homecoming" program, the Marcos government compelled Global North immigrant Filipinos (with tax breaks and reduced airfares) to periodically visit the Philippines to consume their homeland's "tourist spots, native handicrafts and local food," generating foreign revenue in the Philippine economy while seeing the "indisputable" accomplishments of Martial Law. [1] Rather than the "touristic consumer" balikbayan whose permanent residence remains entrenched abroad, Jodee lives a community existence deeply integrated in Manila through his consistent contributions of art facilitation, creative direction, and fashion entrepreneurship with Pineapple Lab, HUB Make Lab, and Glorious Dias. [2] These contributions are also informed by Jodee's vigilant awareness of his positionality as a diasporic Filipino in the Philippines.

An Ecosystem of Filipino Culture, Dance, and Vintage

I began the conversation by briefly sharing my own journey through vintage as a diasporic Filipino. Even though vintage fashion has been a source of pleasure and a space to grow my personal activism, it has also planted pebbles of discontent in my heart from the erasure of vintage Filipiniana and the scarcity of Filipino vintage business owners. Jodee and I contemplated this reality together.

J.A.: For me, the vintage world is not typically Filipino. It's typically white.

Resistant to the stronghold of whiteness that seems to grip the Western vintage industry, Jodee highlights the strong Latinx population in the vintage world as well as Hong Kong and Japan as "place[s] to go for vintage, the way you go to London for vintage, the way you go to Kensington Market for vintage." He also tells me about spaces within vintage he gravitated toward.

J.A.: I was more fascinated with the POC movement of vintage stores too, and how women of color were embracing old photos of their parents and their moms and their traditional garb.

A quick scroll through the Glorious Dias Instagram feed testifies to Jodee's love for Filipino families in glorious 20th century fashions. You'll find Philippine vintage visuals accompanied with informational captions and sources: a 1920s color postcard from the Philippines Heritage Costume and Dress Facebook page, black-and-white photographs of Filipino Trans Femme models posing in Filipiniana, and a 1961 Christmas card featuring a Binasuan folk dance scene, just to name a few. Jodee's enthusiasm and diligence in sharing these specific histories affirms vintage as a space to spark excitement about fashion knowledge in accessible and resonant formats.

Long before Glorious Dias however, Jodee's vintage journey began in Edmonton, Canada then continued in Toronto's Kensington Market, where he opened his first vintage shop called Pretty Freedoms with a business partner. The two owners incorporated their Filipino and Estonian backgrounds into the shop name.

J.A.:

We picked our favorite words in our language. So she picked 'ilus,' which means pretty or beautiful, and mine was 'malaya,' which means freedom. Even in our social media we celebrated the historical, traditional fashion of Estonia [and] the Philippines.



After this multicultural collaboration, Jodee opened his solo-run vintage shop A Homerun while simultaneously developing cultural programming (e.g., Kultura Filipino Festival, Filipino folk dance workshops, parol-making workshops, conversational Filipino language programs) for Kapisanan Philippine Centre for Arts and Culture, which was located next door to A Homerun. At the same time, Jodee also launched the Philippine folk fusion dance group HATAW, whose costumes were all vintage. Jodee speaks warmly about memories "dancing and whacking" in couture vintage, bringing together expressions of Filipino cultural arts, dance, and vintage.

J.A.: It was a perfect combination of factors of circumstance and geography where I was able to practice commerce next to culture. It came hand-in-hand. It didn't need to be a conscious decision, because it was always in my bubble. It was in my ecosystem.

Contributing his unique set of skills to the ecosystem around him has been a pattern for Jodee, as when he uprooted from Toronto to Manila five years ago, taking the helm at the art gallery and creative space Pineapple Lab and opening Glorious Dias within Pineapple Lab at its first location in Poblacion, Makati.



Bayanihan: Community Care as a Response to the Pandemic

What was meant to be a week-long pop-up shop transformed into a permanent vintage shop named after Gloria Diaz, the first Pinay Miss Universe. However, the shop's signature rework practices didn't emerge until the 2020 pandemic, when Pineapple Lab and Glorious Dias closed their physical spaces.

J.A.: What ended up happening, why we got into rework was kind of just, economics. Or fate.

While on a grocery run during the early days of Covid-19, Jodee fortuitously ran into a seamstress he worked with in the past. She confided in Jodee her struggle to find work now that everyone was afraid to leave their homes and interact with anyone. Jodee asked for her number, saying, "let's see if we can get some work for you." He acknowledged that he couldn't hire her himself but wanted to find projects for her. Jodee's actions as a facilitator, a connecting thread of survival, not only ended up benefitting the seamstress, but the future of his own shop.

With the physical location closed, Glorious Dias transitioned online. When there was overstock of product that didn't sell, Jodee sold those same vintage garments again, but this time reworked with the expertise of local seamstresses who had been searching for work during the pandemic. In February 2021, Glorious Dias moved into its new home at the historic First United Building in Escolta, and Jodee proposed a collaboration between three art hubs: 98B, HUB Make Lab, and Pineapple Lab.




Figure 2. Cropped Barong Pinafore reworked from vintage deadstock Barong. [Photograph] Glorious Dias. Photo taken by Jodee Aguillon. https://gloriousdias.com/products/cropped-barong-pinafore-1

Figure 3. Two hooded collars from the collection "Shady Ladies" reworked from vintage textiles and Filipiniana. [Photograph] Instagram. Photo taken by Jodee Aguillon. https://www.instagram.com/p/CaR1knNv36Q/?utm_source=ig_web_copy_link

J.A.: [This is] something we would have never done before, pre-pandemic, not because we were ever competing — but we were. There's a certain amount of grant money, there's only a certain number of opportunities. But when we looked at our circumstances, none of these institutions are fucking supporting us. Like we gotta band together, and that's essentially what we did. We started sharing our files, resources sharing. Here's my template for this, here's my template for contract consignment, intern schedule, internship program, here's our call out. All of that stuff started meshing together, to the point where some of our feeds looked the same, but at the same time, aren't we doing the same kind of work, we're just attacking it from different audiences and different lenses?

Pooling together a diverse network of skills and resources can be understood as bayanihan, a distinctly Filipino system of mutual aid that is most famously manifested in stories of neighbors helping a family relocate by literally lifting the family's house together on everyone's shoulders. [3] After the Philippine government instituted an enhanced community quarantine in March 2020, many homeland and diasporic Filipino fashion brands put the bayanihan spirit into action. VINTA Gallery gave their Philippines-based team of women sewers, embroiderers, and finishers a safe and comfortable work-from-home option; they were invited to live together while taking pandemic safety precautions at the brand's atelier, which is inside a residential home. [4] ANTHILL set up "a decentralized supply chain to allow [their] seamstresses to borrow sewing machines and work from home." [5] ANTHILL also established mask production to directly support the livelihoods of their sewing team, production team, and production partners. [6] In 2020, fashion designer Mich Dulce collaborated with Kendi Maristela, Lea Empalmado, and AJ Dimarucot to create the pattern for the first medically reviewed open-source PPE suit, designed as a durable alternative to the garbage bags and raincoats that healthcare workers were forced to wear; Mich Dulce also shared the full-scale PDF patterns through a public Facebook post and Google Drive link. [7]

While ANTHILL and Mich Dulce more explicitly identify social entrepreneurship as core values embedded within their respective brands, all four fashion brands demonstrate that enacting bayanihan not only disrupts the fashion industry's hegemonic practices (like pressuring laborers to work in unsafe conditions or gatekeeping resources), but also proves that independent fashion brands are capable of community care and responding to a government's "lack of sustainable support and systematic planning," similar to the thousands of community pantries set up throughout the Philippines during the pandemic. [8] [9]



Glorious Dias's Seamstress-Designer Relationships

B.G.: Do you work with a team at Glorious Dias? Who does all the sewing, cleaning, sourcing, designing, re-working of fabric? Can you give me a sense of the labor put into Glorious Dias?

J.A.: I do everything except sew. I do cut, design, sketch, pattern, all that stuff. But I don't sew mismo. Only because I do everything else. Cleaning, bleaching, sometimes dyeing, sourcing, shooting, pricing, social media.

To fulfill the sewing component, Glorious Dias currently employs three seamstresses, who each have their own individual strengths and freelance projects outside the shop.

J. A.: I had to learn that simple cuts, this person does it. The more intricate, if we're gonna try a new style, it's gonna go to this person, because they always have the best execution for the first sample. Mga ganun [Like that]. Instead of changing the staff and firing them, I was also put in the position where I don't have that luxury. And over time, you do develop a relationship with them. You make chika, you talk, and they put me in my place too. They're like, "What? No. I'm not doing that, that's complicated, that's going to ruin [the garment]." Obviously, they're older than me, and I'm not the hands doing it, I'm simply the client at the end of the day, with the vision, the request, the wish list, but they've told me many times — nope. No. That's not happening, I'm not doing that. So many things don't happen. We do a prototype and shift away from it. [The seamstresses] are also intrigued, like "ano naman ang gagawin natin? [what are we going to do?] You're asking me to turn a tablecloth into a dress. I'm excited to do it, there's just something novel about it." And I think it's also challenging them to look at textiles differently and play around.

Rather than the more common boss-employee relationship rooted in a hierarchical power dynamic that prioritizes profit above all, Glorious Dias's rework production is a vibrant collaboration, a back-and-forth dialogue that carves out abundant space for multiple perspectives to shape each vintage garment into its next glorious form.

J. A.: I didn't wanna have to deal with a manufacturer, someone who is going to produce my clothes. I wanted that one-on-one, you get me, you understand me, you care. Because if I wasn't going to be the hands that stitch this, the person who does has to care. It's about producing a beautiful piece from an old textile, versus pumping out, like, this conveyor belt worth of products, everything cookie cutter.

B.G.:

It sounds like a very intensive process, very person focused. Like you work with each of their specific strengths, and you don't mold them to fit the single "cog in the wheel" of everyone being the same.



J.A.: For a while it was frustrating a little bit, because I [thought] 'okay, all four of you are gonna make pinafores, and then I'm gonna get them back,' and suddenly I'm like, 'okay, who made this one? We need to redo this.' Then it got to a point like — you're fine. I need to come up with a design that you can execute and set you up for success.

Glorious Dias's labor practices encourage genuine relationships to flourish and each person to contribute their unique set of skills toward a collective outcome — key components in building community care. Jodee attests to "the trust, the level of support with someone who also helped me through the pandemic, because I helped them, was key to knowing we are going to be the ones who save ourselves." The fruits of this community care — this bayanihan — are deeply embedded onto each Glorious Dias reworked garment. The rework process also disrupts capitalist methods of assembly line mass production, because each original garment requires individual care and attention, an understanding that this piece is unique from any other piece — just like each seamstress is unique from the seamstress sitting next to her.

Figure 4. Rupi Pinafore reworked with secondhand fishing pants and deadstock textile.
Glorious Dias
. Photo taken by Jodee Aguillon.
Reworked Garments: Subverting the Pinafore, a Historical Symbol of Gendered Labor
The first garment Glorious Dias reworked was the pinafore. Born from Jodee's love of aprons and a desire to explore what a cute, pandemic-friendly creation might look like, the pinafore holds multiple layers of meaning within its pockets. Jodee astutely links the garment's utilitarian purposes and its symbolism of domestic labor to the image of migrant Filipino workers as service providers or caregivers in diaspora — especially in the Global North. Research studies have noted the disproportionate percentage of Filipina women employed in service work. [10] Many of us have memorized the statistic that Filipino-American nurses made up 31.5% of Covid-related deaths among registered nurses. [11] Philippine historian Vicente Rafael tells us about upper class Filipinos' embarrassment when Europeans equate the word "Filipino" with domestic laborers and when migrant Filipino workers ask Filipino tourists if they are also on their day off. [12] The Glorious Dias reworked pinafore activates a spark of disobedience that transnational feminist literary scholar Denise Cruz also enacts through her research recovering the history of Manila's thriving couture industry; by drawing attention to the specialized skills and intimate labour of fashion design in the Philippines, both Jodee and Denise Cruz disobey the "popular representation of the Philippines and its citizens as caregivers or laborers who cater to global North desires and needs." [13]
J. A.:
Could we reclaim what it looks like to put on our garb? [Not] me being service, but me having a skill that is unique? That can be my armor? Instead of a uniform that signifies I am of service to somebody.
Jodee explains that the classism in the Philippines is so mind-blowing, you feel its silent presence every day. In this context, the vivid, patterned pinafores of Glorious Dias assert, "I have a skill to offer, and I am valuable." Jodee also recognizes that his customers have more disposable income, and he contemplates the poetic reality that wealthier customers are buying aprons, which could be a uniform of their staff.
J. A.:
If I had released these in all-white cotton, it would have meant totally something different. I think iconically, visually, [an all-white pinafore] would have symbolized what it does, an apron of service.
This garment is reworked not only in material construction; through its deliberate departure from an all-white fabric and embrace of vibrantly-colored patterns, the Glorious Dias pinafore teeters precariously back and forth in the space between employer and laborer, challenging us to push back against easy symbols of service.
Reworked Garments: Bringing the Barong Tagalog out of the Closet to Play
Figure 5. A small batch of Barong earrings.
Instagram
. Photo taken by Jodee Aguillon. November 29, 2021.
After the pinafores, Glorious Dias began reworking vintage Filipiniana, especially embroidered Barong Tagalog fabric. This national menswear transformed into a wave of Barong corsets, waist cinchers, scrunchies, earrings, and ornaments in 2020 and 2021. What I imagined were innovations in queering Filipiniana, Jodee tells me were also a means of interrogating the classism that permeates Philippine society and a way of bringing the hidden Barong out of the closet to play every day.
J. A.:
Is there a way that we can take this piece of art that a man gets to wear once or twice a year, maybe once in his lifetime and then it gets stored away — [that was] likely made and woven by the hands of a woman — is there a way to take that glory away from the one photo of him wearing it, and bring it out to the everyday? For women to enjoy it, for more people to appreciate it, and to not deteriorate in a closet?
The rework process to make the Barong Tagalog wearable every day is not only an exercise in making a 'traditional' garment more contemporary; it also resists the Orientalist lens that assumes non-Western clothing are costumes permanently stuck in the past — rather than fashion capable of evolving into the future.
J.A.:
A whole Barong, all that work, is very expensive. Saying 'yeah, we have to champion our local weaves,' but the majority of the population can't afford it. Not that it's not worth it, but we just can't afford our own shit. That's just the reality. Taking a Barong, it was really about making a little piece of Filipiniana more affordable. One person can afford it, but if we chopped it up, then twenty people can enjoy it. Or five people can enjoy it. Because the price is lower, it's not so much being squirreled away or hidden, but now it's being reframed literally in a way that you can see every day. This is gonna be either hanging on your wall, in your hair, on your ears, somewhere. And I know it's also the secret way of fucking with the dress codes here. Like I could wear this little button earring [where] the dress code was Filipiniana or Barong.
While still asserting the valuable labor of Barong Tagalog artisans, Jodee points to the classism insidiously tied to obligations in showing national pride and supporting local artisans. He also expresses frustration at the classism underpinning the dress codes that make exceptions for white tourists. What are the implications if only upper-class Filipinos, tourists, and diasporic Filipinos can afford to "prove" Pinoy pride?
J.A.:
[We have to] keep the basketball shorts out of here, keep the sandos out of here, because god forbid — someone wearing flip-flops. You know who wears flip-flops here? Yeah, white people. White people and poor people. But who's gonna get through the door? The white people wearing flip-flops!
Figure 6. The Ilona Mood Dress reworked using secondhand batik print malongs from Indonesia and Thailand.
Glorious Dias
. Photo taken by Jodee Aguillon.
Reworked Garments: The Mood Dress and Southeast Asian Sustainable Fashion

During the late summer of 2021, Jodee released the mood dress, a garment reworked from vintage fabric and constructed so cleverly that you could significantly change the design at least seven times by simply adjusting the straps, which change the neckline and waistline to your liking. This means you could essentially wear a different dress every day of the week from a single garment. As Jodee says, "one dress for every mood." The Glorious Dias mood dress was inspired by the malong, a multipurpose tubular cloth woven by the Maranaos, Maguindanaons, and the T'boli IP (Indigenous Peoples) of the Philippines. [14] It is similar to the Visayan patadyong and the Indonesian sarong. Not only is the malong literally circular fashion, but it is also a testament to the historical sustainability and innovations of Indigenous Philippine cultures. IP have been wearing malong as non-gendered skirts, sleepwear, beachwear, a bathrobe, a sunshade, a shawl, a sash, protective headwear, a pocket, a sling bag, a blanket, and even a portable dressing room for centuries. [15]

J. A.: Sustainable fashion means going back to what we were doing before. Not necessarily creating new technologies. We almost have to look back at the old technology. I see those looms, and I literally see a computer working. I read somewhere that you can measure a society's intelligence by their textiles, the intricacies of their textiles. This is alien shit, man. This is out of this world. I always thought that Filipino fashion is futuristic. It's not backwards, it's not baduy, it's not out of fashion, it looks like it belongs in the future.

The idea that Filipino fashion is backwards, baduy, out of fashion, is a manifestation of colonial mentality and evidence that colonialism "turns to the past of the oppressed people, and distorts, disfigures, and destroys it." [16] When the fashion system perpetuates the image of sustainability as a white woman who 'ingeniously' comes up with groundbreaking, futuristic inventions affordable only to upper-class customers, Jodee's reminder of historical Philippine Indigenous innovations in multipurpose, zero-waste designed objects is a refreshing, grounding, and decolonial perspective. In resisting colonial distortion and erasure of Filipino fashion innovation, Jodee took care to respect the IP associated with the malong when thinking through the mood dress rework process.

J. A.: I was never going to actually cut up a malong that was tied or connected to the T'boli or any other minority group, because I'm not in that lane, and I don't work directly with the IP here, so it just didn't feel right.



Negotiating Diasporic and Homeland Practices of Decolonization and Filipino Identity


The malong and mood dress led us to a discussion on identity and decolonization in diaspora versus in the Philippines.

B.G.: I've done this myself too, but I think many diaspora Filipinos forget that there are minority groups and Indigenous Peoples in the Philippines. And I think there's a tendency to lump the Philippines into a single people of one nationality, one identity.

J.A.: Oh yeah. It's sticky, because I'm diasporic, and I've had to call myself on my own bullshit...So when I see that happening, I hope it's only a part of where they're going, and not where they're staying at, as far as their perspectives on their cultures. But I train myself to not judge it, because I get it. I am that. I was that. I understand where that's coming from. You just really want something to identify with. And you want to be proud of it. The thing that rubs me differently, or wrong, off the top of my head, is when we refer to our ancestors. When I say 'my ancestors,' I mean, my Lolo, my direct. But I think a lot of people use ancestor as a blanket term for the entire human Pinoy Filipino-ness. I think that's important because I see a lot of diaspora wearing malongs for fashion, which is great, but I just hope that is a step towards scratching the surface of what the textile means, [like] if it's batik from Indonesia or is it from the Philippines?

Jodee critically questions diasporic Filipinos who are unlearning colonial mentality and embracing their Filipino identity without shame for the first time. However, he applies this critical lens with a surge of empathy, because he has been on that side too. Jodee also explains that when Glorious Dias uses batik, it's sourced from Indonesia, because his Lola's dusters are from Indonesia.

J.A.: 'Made in the Philippines' can sometimes mean we're not a bubble here. We knew how to import stuff into the country, how to make stuff from French lace. There's a bit of a tendency to be purists about everything that's made in the Philippines.

Jodee's insight that authenticity does not inherently mean purity reminds me that Filipino fashion has long been fertile grounds of the borderlands, merging worlds and manifesting hybrid identities through trade routes and trade relationships that existed and thrived long before Spanish colonizers stepped foot on the islands. As far back as the ninth century, Indigenous Peoples of the archipelago directly and indirectly interacted with Indian, Chinese, and Arab traders as well as the kingdom of Champa and the empires of Srivijaya and Majapahit. [17] During the 18th and 19th centuries, mestizos in the Philippines wore hybrid ensembles combining European and Indigenous styles. [18] The Philippines cannot operate through a gatekeeping logic of purity and authenticity when its true history is one of survival through hybridity and resource innovation.


.
Figure 7. A hand painted vanity mirror that reads "mahal kita, hayop ka" and other handheld vintage trinkets hang on a wall display of the Glorious Dias shop interior.
Facebook.
Photo taken by Sherie Bolo and Joshua Fontarum.
Figure 8. A capiz shell lamp and mannequin display at Glorious Dias with a rack of vintage patterned shirts on the other side. [photograph] Facebook. Photo taken by Sherie Bolo and Joshua Fontarum.
B.G.:
To your knowledge, do Filipinos in diaspora and Filipinos living in the Philippines think and act on decolonization in different ways?
J.A.:
The decolonization here affects us differently because of the classism. It just runs a little more complex than diasporic 'say no to papaya soap and skin whitener!' or '[I'm] changing my Hispanic name to something more Indigenous!' From the diaspora, [decolonization is like] reclaiming your identity versus knowing your place. And it's very homogenous here [in the Philippines], unless you're a white person or anything else but Filipino. Even I feel Othered, because of my eyes. People always think I'm Chinese, or Japanese, or Korean. They never think I'm Filipino.
As Jodee reflects on the layers of his own positionality, I learn that his ethos of community care is ignited from a deep, ongoing reckoning with who he is as an individual and his role within the ecosystem around him.
J. A.:
I still operate from a privileged point of view here in the Philippines. My lens and comfort still come from my diasporic experience. I have to acknowledge all that stuff, and I can't really say that 'I'm down with the people, I'm really experiencing what it's like to be a local.' I'm experiencing what it's like to be a diasporic Filipino living in the Philippines. That's essentially always going to be my lens. I will feel local, it's been like five years, I know my way around, I can speak enough in Tagalog, but I have to remember that yeah, I still hold a [greater] level of privilege than a majority of the population. That's a way for me to appreciate [and] utilize what I can do to help someone else in a small way. I'm not trying to do some social enterprise, but is there something from my point of view, from my experience, that I can bring to the table at the moment, that can help someone or a community or a movement?
Jodee came to the Philippines originally as a dancer, but when he arrived, he realized that the Philippines doesn't need more dancers. It needs more arts administrators.
J.A.:
I would be of way more service doing the platforming of [artists] as opposed to taking space, taking a spot from one of them. So that was really awesome learning. I love the spotlight. But I was proud of myself to understand that the spotlight needs to be on these people, but the access or maybe their resources aren't well sorted out. Could I be part of the team that helps out with that, as opposed to [taking those resources]? Yes, yes, yes. I love that work, and I understand that role, ever since. My role isn't to be a dancer, or an artist necessarily as an individual. I love practicing creative things, but I get more excited when I see potential for an opportunity for another artist that I know in my network.
Jodee's disobedient
balikbayan
migration to the Philippines ignited a reconceptualization of his creative identity from individual to community artist as he integrated himself into Manila's artistic ecosystem and mobilized a diverse network of skills and resources toward collective survival.
Community Work: It's Just How You Exist

J.A.:
For me, that's how I understand community work. It's a lifestyle. It's not a thing you do. It's just how you exist. I don't exist unless I'm doing this kind of work. I'm responsible, I'm part of my community, so me existing is part of that job, that role to keep. Either challenge the current situation [or] improve the current situation.
As Jodee stated earlier, Glorious Dias is not meant to be a social enterprise in the sense of a systematically planned endeavor — the shop's ethos is only to "love vintage and celebrate Filipino." However, Glorious Dias simply does not exist without an ongoing, living commitment to its ever-evolving role within community. Activated through the re-making and wearing of vintage Filipiniana, the shop's community-centered labor practices and decolonial interrogations scorch holes into assumptions about the Philippines (and the Global South) as a dumping ground for the Global North's unwanted, used clothing and as a location of "unskilled" laborers mass-producing fast fashion. [19] Jodee taught me that 'Made in the Philippines' means strengthening interpersonal relationships and building mutual trust; it means fashion can be a way to nourish one another's mutual growth and wellbeing; it means
bayanihan
as existence.
Figure 9. A conversation on video chat between Jodee and Bianca. [screenshot] Zoom.
---
Notes: Made in the Philippines: Glorious Dias
[1] Rafael, V. (1996). 'Your grief is our gossip': Overseas Filipinos and other spectral presences. Transformations: Comparative Study of Social Transformations. The University of Michigan Ann Arbor. p. 5
Diaz, J. (2018). Balikbayan configurations and a U.S.-Philippine politics of modernization. Journal of Asian American Studies, 21, 1-29. p. 4
[2] Guevarra, A.R. (2006). The Balikbayan researcher: Negotiating vulnerability in fieldwork with Filipino labor brokers. Journal of Contemporary Ethnography 35(5), 526-551.
Diaz, 2018; Rafael, 1996.
[3] Abayan, R. (2017). The Bayanihan spirit: 7 Filipino social enterprises changing communities. Cambio & Co.
shopcambio.co/blogs/news/the-bayanihan-spirit-7-filipino-social-enterprises-changing-communities
Ang, G. R. (1979). THE BAYANIHAN SPIRIT: DEAD OR ALIVE? Philippine Quarterly of Culture and Society, 7(1/2), 91–93.
jstor.org/stable/29791626
[4] Mangosing, C. (March 2020). VINTA UPDATE – MARCH 2020. Vinta Gallery.
vintagallery.com/blogs/news/vinta-update-march-
2020?_pos=3&_sid=16ba04c8d&_ss=r
[5] People Over Profit (n.d.). ANTHILL MARKETS.
anthillmarkets.com/blogs/stories/people-over-profit
(para. 2)
[6] People Over Profit (n.d.). ANTHILL MARKETS.
anthillmarkets.com/blogs/stories/people-over-profit
[7] Creativity and Innovation: DIY during a pandemic. (2020). Intellectual Property Office of the Philippines.
ipophil.gov.ph/news/creativity-and-innovation-diy-
during-a-pandemic/
Moral, C. V. (2020). Filipino designers' PPE pattern is 1st 'medically reviewed' protective suit design. Philippine Daily Inquirer.
lifestyle.inquirer.net/359999/filipino-designers-ppe-pattern-is-1st-medically-reviewed-protective-suit-design/
[8] ANTHILL Fabric Gallery [@anthillfabric]. (n.d.) ANTHILL Fabric [Instagram profile].
Instagram. Retrieved September 14, 2022, from
instagram.com/anthillfabric/
Dulce, M. (n.d.) "About." Mich Dulce.
michdulce.com/about/
Dulce, M. (2019, July 27). Yay!! I'm going to be a Chevening scholar! Super grateful for this amazing opportunity to do my Masters in Social Entrepreneurship [Status Update]. Facebook.
facebook.com/michdulcestudio/photos/yay-im-going-to-be-a-chevening-scholar-super-grateful-for-this-amazing-opportuni/10162152926030048/
[9] Del Castillo, F. A., & Maravilla, M. I. (2021). Community pantries: Their role in public
health during the covid-19 pandemic. Journal of Public Health (Oxford, England), 43(3), e551-e552.
doi.org/10.1093/pubmed/fdab154
[10] Ezquerra, S. (2007). Gender, migration, and the state: Filipino women and reproductive labor in the United States. Kasarinlan: Philippine Journal of Third World Studies, 22(1), 117-144.
Monton, A. (2021). Filipina caregivers and the colonial construction of their identities in the U.S. Pathways: A Journal of Humanistic and Social Inquiry, 1(3), Article 6.
repository.upenn.edu/pathways_journal/vol1/iss3/6
[11] National Nurses United. (2020). Key Findings. Sins of Omission: How Government Failures to Track Covid-19 Data Have Led to More Than 1,700 Health Care Worker Deaths and Jeopardize Public Health.
nationalnursesunited.org/sites/default/files/nnu/documents/0920_Covid19_SinsOfOmission_Data_Report.pdf
[12] Rafael, 1996, p. 15.
[13] Cruz, D. (n.d.). Developing Projects. Denise Cruz.
denise-cruz.com/developing-projects/ (
para. 2)
O'Neill, K.L. (Host). (2020). 10: Fashion and Power in Manila (No.10) [Audio podcast
episode]. In Between, Across, and Through. Centre for Diaspora and Transnational Studies at the University of Toronto.
open.spotify.com/episode/13Vvw9rDXPpqhbW4bgWBlZ?si=c10c8ad088b64f5f
[14] Crisologo-Liongoren, N. & Junio, R. A. (2013). The versatile malong. In Guatlo, R. E. (Eds.), Habi: A Journey Through Philippine Handwoven Textiles (pp. 74-77). HABI: The Philippine Textile Council.
[15] Ibid.
[16] Fanon, F. (1968). The Wretched of the Earth. Grove Press. p. 210.
[17] Gonzales, G. & Higgins, M.L. (2015). Fashionable Filipinas: An Evolution of the Philippine National Dress in Photographs 1860-1960. Bench & Slim's Fashion & Arts School, Philippines.
[18] Capistrano-Baker, F.H. & Castro, S.B. (2015). "Philippines: Central" in Dhamija, J. and Eicher, J.B. (Eds.), Berg Encyclopedia of World Dress and Fashion Volume 4. Bloomsbury Publishing.
Coo, S. M. R. (2014). Clothing and the colonial culture of appearances in nineteenth-century Spanish Philippines (1820-1896). [thesis] History. Université Nice Sophia Antipolis.
tel.archives-ouvertes.fr/tel-01126974
[19] Appelgren, S. & Bohlin, A. (2015). Introduction: Circulating stuff on second-hand, vintage and retro markets. Culture Unbound: Journal of Current Cultural Research, 7, 3-11. 10.3384/cu.2000.1525.15713.
Cruz, n.d.
O'Neill, 2020.
Additional References
Gozum, I. (2021, April 17). 'Pagod na ako sa inaction': How a community pantry rose to fill gaps in gov't response. Rappler.
rappler.com/moveph/community-pantry-covid-19-lockdown-april-2021/
hooks, b. (2001). All About Love: New Visions. Harper Collins.
Mohanty, C. T. (2003). Feminism Without Borders: Decolonizing Theory, Practicing Solidarity. Duke Press.