Rana Feghali is a Lebanese fiber artist and fashion designer. She was born in Lebanon during the civil war. Her art practice is based on old Middle Eastern weaving, knitting, and felting techniques, while investigating the history of her family and of her home country and paying respect to all those who lost their lives in deathly immigration routes.
Dear Grandma,

A lot of time has passed since we last spoke. I left Lebanon for Italy many years ago but childhood memories of our time together and of life in my native country still linger, influencing both my everyday life as a mother of two and my practice as an artist. I remember the huge mulberry trees in your garden, the ones that the silkworms ate, their delicious tasty fruits. The white ones were my favorite, so sweet and sticky.

You taught me how to create beautiful things from what nature offers. I think about this as I build my own loom just like the Bedouin women in Jordan do, and I weave with wool and mulberry silk fibers, unlocking the mysteries of the ancient craft that first provided economic independence to the women of our country. Do you remember how you taught me to knit, with two small branches and the scraps from your own knitting? Was your mother one of the many girls who left home to go and work in the textile factories? Was she ever called a "factory girl?" And when the silk market began to falter, was your father one of the many men who had to leave Lebanon? Did a priest threaten to excommunicate him, like they did to all the men leaving for the New World? I never got to ask you these questions, Grandma, and only now I understand how much your knits and your weaving meant to the history of our country.

"Buon riposo" (Wall hanging) Antique hand embroidered pillow and thermic sheet, handwoven. 45X200cm. 2022


This work is inspired by the dramatic event that took place in September 2020. A ship with around 50 Lebanese migrants drifted in the Mediterranean waters for seven days without food, water, or baggage. Out of 50 who left Tripoli (one of the poorest and most forgotten places in Lebanon), 14 died, including a child of 16 months. He was thirsty and his parents didn't have any water to give him except the salt water of the sea. He died and his mother gave his body to the sea, telling him: "let your last rest be here."

Emergency blankets were hand-cut into strips and then hand woven into an antique pillow to form the pattern of the waves. The style of hand embroidery dates from the beginning of the 19th century, before all those tragic events in the sea, and it means "Rest well."


Dear Grandma, the mulberry trees have all been cut down. Our lovely village of Bdadoun has become ugly. They demolished your white house. I still remembered its beautiful arched ceiling, the smell of the clementine trees and of the flowers in your garden. I used to love the small cobblestone path that connected your house to the main street. There was a big rose bush at the entrance, and a smaller one on the other side; I used to help my mother collect the petals to make rose water. The smell of those roses is kept safe in my heart.

Do you know, Grandma, there are no more rose bushes in the village, no more trees, and a four-story building has replaced your home? I wish I had had the money to buy the property myself when they decided to tear it down.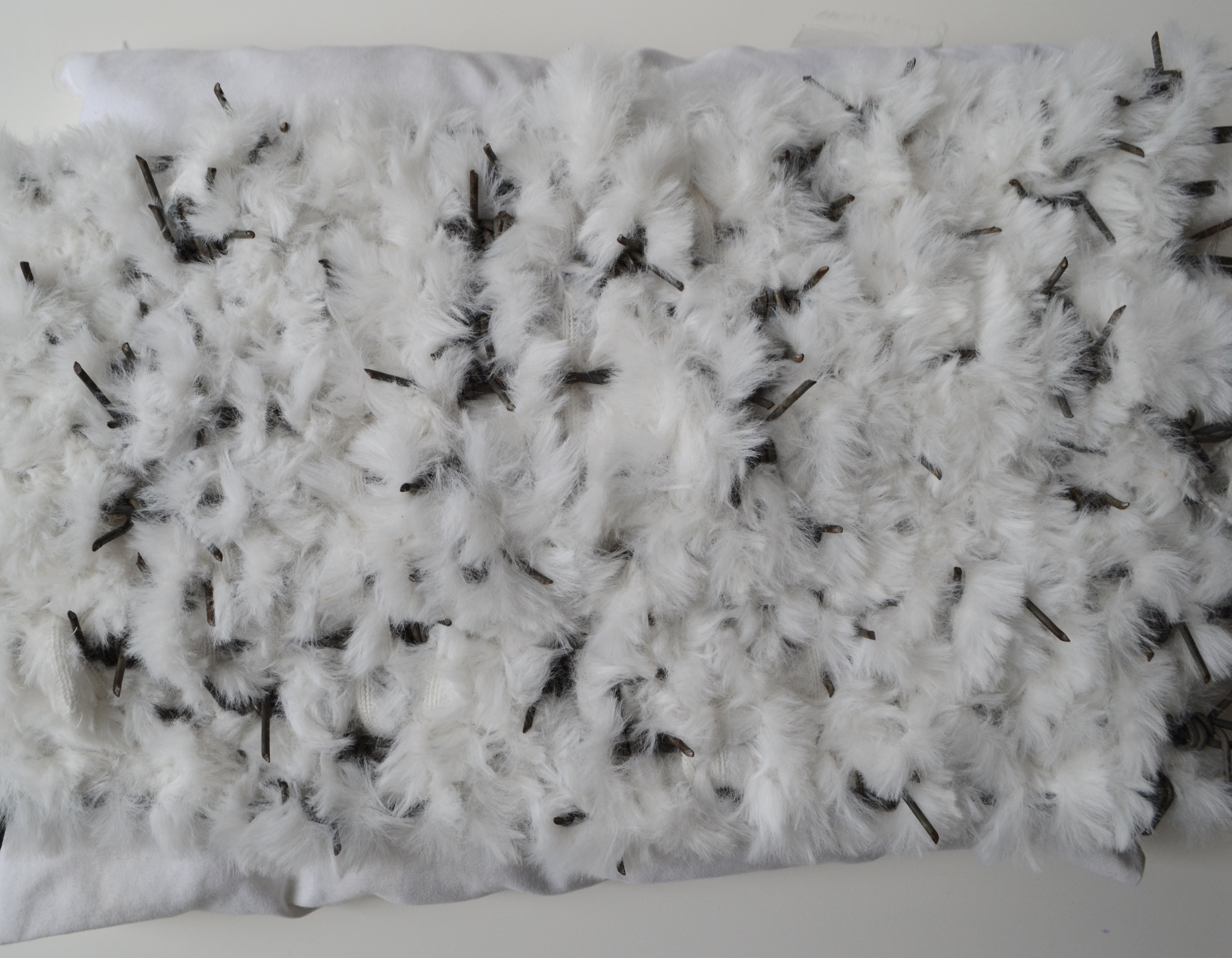 Insomnia. Hand weaving, barbed wire and cotton. 28x45cm. 2022


I have been dealing with a sleep disorder for more than 10 years. It became like sleeping on a soft pillow with pins that woke me up constantly. This wrap is composed of an old barbed-wire fence found in Lebanon (most probably from the civil war); the weft is made with a very soft synthetic thread.
Dear Grandma, what happened to your parents when they emigrated to Dakar? Who designs the routes of immigration? Why did they decide to send you back to Lebanon alone? How did your mother manage to live so far away from you? Most of all, why were they killed? Who will give me answers to these questions now?

Do you remember the hat you made for me when I went to primary school? It got so many compliments from the nuns! You know, I still wear the shawl you made for mother, when she got engaged to father.

I miss you, Grandma.

Rana
Urban collection. Hand weaving, barbed wire and wool. 35x50cm. 2022
Barbed wire fences are meant to divide and separate. Coming from a country like Lebanon, my eyes have gotten used to seeing them as an integral part of the urban scene.
In this textile work I deconstructed the wire and colored it with gold and weaved it with the most delicate mohair wool. This technique is inspired by the Ikat but instead of coloring a part of the wrap to form the design, I inserted the golden part of the barbed wire.